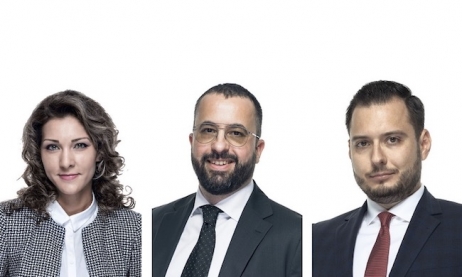 Mădălina Mitan, Sebastian Gutiu and Claudiu Stan
choenherr și Asociații SCA has promoted two of its real estate & construction lawyers: Mădălina Mitan to local partner and Claudiu Stan to managing attorney at law.
"We are growing our real estate & construction team, currently formed of 12 lawyers, in response to our clients' demand for specialised legal advice in this practice area," said Sebastian Guțiu, managing partner at Schoenherr și Asociații SCA. "To this end, we are attracting new talents from the market while continuing the development of our exceptional colleagues. These promotions are a recognition of the key roles played by Mădălina Mitan and Claudiu Stan who, for 15 and four years respectively, have contributed to maintaining Schoenherr's reputation as a real estate & construction powerhouse in Romania."
Mădălina Mitan (local partner) is an experienced real estate & construction lawyer. She was admitted to the Bar in 2008 and joined Schoenherr in the same year. She has advised on a significant number of real estate transactions, as well as on project development and construction matters across all real estate sectors (office, retail, industrial and logistics, residentials). Her client portfolio includes real estate developers and investors, construction companies and companies that own or operate real estate portfolios. She has considerable experience in agribusiness, having provided transactional as well as general legal advice on real estate matters specific to this sector.
Claudiu Stan (managing attorney at law) has been a lawyer since 2014 and a member of Schoenherr's real estate & construction team since 2019. He has advised on many local and cross-border transactions regarding the acquisition, development and lease of industrial, logistics, retail and office real estate. His client portfolio includes companies active in real estate & construction, energy (oil & gas, renewables), technology, manufacturing and financial services. He has led multi-disciplinary teams and complex projects and is actively involved in the development of junior lawyers in the firm's real estate practice. His professional background also includes legal advice on commercial law, contracts, energy and environmental law.