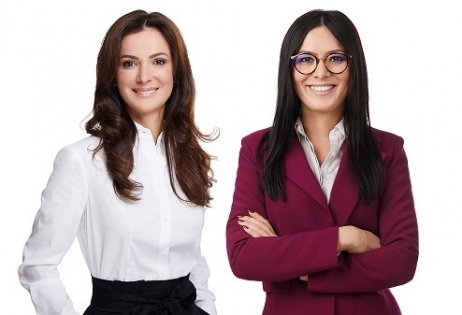 Oana Ijdelea and Anca Mihăilescu
Oana Ijdelea and Anca Mihăilescu announced the foundation of a full-service law firm, with particular focus on Energy & Natural Resources, M&A, Environmental Law, Real Estate and Infrastructure & Construction.
The newly established firm currently comprises a team of 10 professionals (lawyers and advisors) and aims at providing tailored legal advice to local and international companies and private equity funds in virtually all areas of activity, financial institutions, as well as to Government authorities.
The new firm brings together Oana Ijdelea's experience in her own full service law firm as well as that acquired by direct management of energy and natural resources development projects and Anca Mihăilescu's expertise acquired at NNDKP, where she managed some of the firm's complex projects in energy, mining and M&A (including Lafarge's divestment of all Romanian operations, transaction part of a restructuring operation that reshaped the global building materials market and had as final goal the cross-border merger between two giants).
"We have a complementary mix of expertise, added to the fact that a handful of demanding clients already entrusted us their projects. Clients come to us for execution, not only for advice. This motivates us to further deliver the best and the quickest possible results in a business climate with growth potential but facing globalised and local challenges" said Oana Ijdelea.
With 12 years of experience, Oana Ijdelea is known for directly handling some of the most challenging and complex regulatory and compliance oil & gas projects carried out after 1989 in Romania as well as the investors' relationship with local, central and governmental authorities. In recent years she has been continuously involved in implementing new legal provisions and in amending the existing legislation related to energy and natural resources, authorization of execution of construction works and territorial landscape and urbanism. Oana Ijdelea's experience also covers real estate transactions, corporate and environmental law.
Developing her expertise working for one of the largest Romanian law firm as well as a renowned global law firm with a local presence, Anca Mihăilescu has been constantly advising international corporations, private equity funds and public authorities on key issues from all areas of expertise. In particular, she managed some of the most ground-breaking energy projects implemented in Romania in the last years and achieved the successful completion of numerous cross-border M&A deals, joint ventures and minority investments, restructuring and reorganization projects as well as real estate/construction deals. Moreover, she was actively involved in the process of drafting legislative acts and amending various legislative proposals in the energy and natural resources field. She has also developed expertise in substantiating ICSID disputes, especially those related to changes of fiscal legislation.
Current clients benefitting of the firm's personalised approach include: a major offshore oil & gas company, a private equity fund, an international player in the telecommunication industry, several sophisticated players in fields such as mining, real estate and construction and agribusiness, with ongoing projects totalling approximately 900 million euro.
"In terms of the firm's development, we are considering a realistic team increase of up to five lawyers by the end of next year, as a result of an estimated 30% increase in client portfolio" stated Anca Mihăilescu.