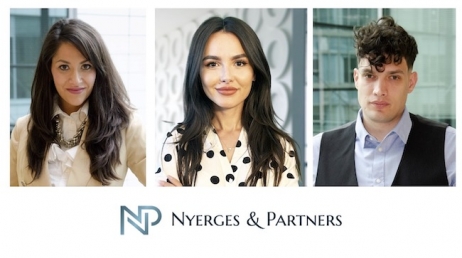 Monica Cune-Ghițescu, Adina Tănăsoiu and Paraschiv Sandu, Nyerges & Partners
Nyerges & Partners announced the promotion of Monica Cune-Ghițescu to Managing Associate and the addition of two young talents to the team: Adina Tănăsoiu, joining as Associate and Paraschiv Sandu, joining as Junior Associate.
Monica is a highly experienced lawyer with over 13 years of experience gained in prestigious law firms. She is particularly versed in Real Estate, also providing invaluable support in a wide range of urbanism, environmental, and construction permitting matters. Monica's expertise also extends to M&A transactions, including drafting and negotiating share purchase agreements, handling foreign direct investment approvals and overseeing the necessary activities for closing.
Adina is a skilled lawyer with a strong focus on Real Estate & Urbanism, as well as in Corporate & Commercial areas. Her valuable experience includes working for an investment fund managing real estate assets and private equity portfolios. She is particularly experienced in drafting and negotiating rental and superficies agreements, conducting title due diligence on real estate assets, as well as in a wide range of corporate and commercial matters, drafting and negotiating all types of commercial contracts.
Paraschiv is a lawyer with a strong theoretical foundation, demonstrating an exceptional understanding of the intricate technical aspects involved by energy and urbanism permitting matters and a meticulous approach to due diligence investigations.
"We are delighted to announce the well-deserved promotion of Monica Cune-Ghițescu to Managing Associate. Her outstanding legal knowledge, commitment to our firm's values and dedication to each of our clients bring an invaluable contribution to our Real Estate & Urbanism and M&A practices. We are equally excited to welcome Adina Tănăsoiu and Paraschiv Sandu, two talented, thorough and dedicated lawyers that consolidate our Real Estate and Energy practices. These recent appointments are part of our firm's expansion plan designed to meet the needs of our growing portfolio of clients and our commitment to maintain the same professional standards and the same level of dedicated attention to our clients," commented Mihaela Nyerges, Managing Partner.